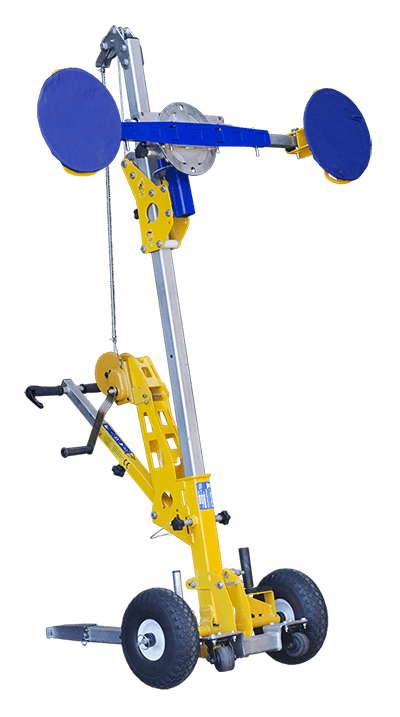 Express 200S

The Express 200S is designed to allow a glaziers to unload, transport and install large plates of glass. It has a lifting capacity of 200 Kg's (440 Lbs). It can rotate glass measuring up to 3660 mm (144″). It has adjustments to allow for side and top pocket glazing.
Handling glass plates and windows can be a back breaker due to the weight and dimension of the plates and the uneven grounds of construction sites. The methods to deliver plates haven't changed in decades even with windows now getting heavier and larger.
Quattrolifts has released the Express
200S
, an innovative small portable lifter that allows one man to move plates weighing up 80 Kg's (180 Lbs) or two to three men up to 200 Kg's (330 Lbs). The Express
200S
is loaded easily onto a truck and quickly assembled in under a minute.
Once assembled the Express
200S
can unload plates off the truck and then transport the plates and windows on site. The large 330 mm (13″) solid wheels allow for travelling over rough grounds on construction sites. The wheelbase can be adjusted from 54 cm (21″) to 80 cm (31″) allowing for narrow walkways on-site.
Two terrific features of the Express
200S
allow the lite or window to be rotated 360 degrees and secondly the operator can also index the lite allowing him to move through standard 90 cm (35″) wide doorways. 
Express 200S Auto Option
Quattrolifts offers an upgrade options which allows for the attachment of a battery and vacuum pump and controller. This feature, combined with a H frame (lifting arm) and extra vacuum cups allows for the lifting arm (H frame) to be detached from the machine and raised using a crane (below the hook lifter).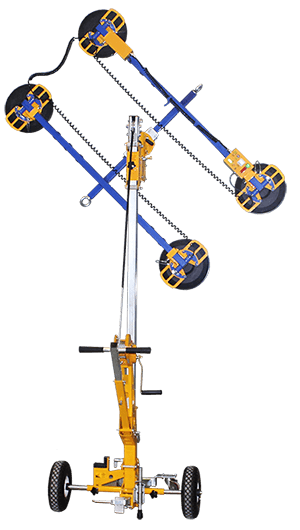 Covered by one or more of the following Patent Application Nos.:
CN 201580027430.5
EP 15782271.9
US 15/306,397
AU 2016905169
US 7,997,845 (Patent)
Covered by European RCD No. 002552539.
Pat. Pend. App. Nos.: 2018903412, 2018903413


EU 002552539




EU 003919034




EU 004022481




PCT/AU2017/051390